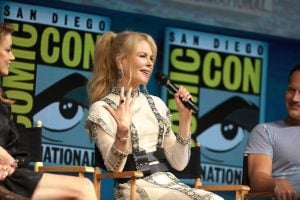 For Hollywood actress Nicole Kidman, faith is important. It's no wonder that she goes to church frequently and shares Christianity with her children.
In a recent interview with Vaniety Fair, however, Kidman revealed she is frequently mocked for her strong faith in God.
"A lot of my friends tease me," Kidman revealed.
Despite the judgement, Kidman said that regular Mass attendance is an important part of her family's life. Kidman is married to country singer Keith Urban, whom she shares two children with.
"That's how we are raising our children. Keith has his own beliefs but he comes, too. I had a very Catholic grandmother, and I was raised praying, so that had a massive impact," the 51-year-old said.
"I wouldn't say it's absolutism, there's constant questioning — I'm a willful, feisty girl," Kidman explained. "For me it's very important that I don't have judgment. My dad would always say, 'Tolerance is the most important thing.'"
This is not the first time that Kidman has shared her faith with friends and fans. In an interview with Allure in 2018, Kidman shared how her faith impacted her life before becoming famous.
"I'm spiritual in that I absolutely believe in God," she said at the time. "I loved the idea of being a nun. Obviously, I did not choose to go that path, but I was very drawn to it."
There were times in Kidman's life where she wasn't as involved with the Catholic church. During her marriage to Cruise, Kidman spent time dabbling in Scientology and Buddhism.
Kidman came back to her Catholic faith after marrying Urban in 2006. The couple lives in Nashville with their two children. She also has two older children from her previous marriage to Tom Cruise.
"For Nicole, you know this is a spiritual homecoming, coming back to the church and her faith in her old parish," said Father Paul Coleman in 2006, an Australian priest and a longtime friend of the Kidman family who helped the actress obtain the annulment of her marriage with Tom Cruise.
Today, despite being judged by others for going to church, Kidman stands strong and brushes off the hate.