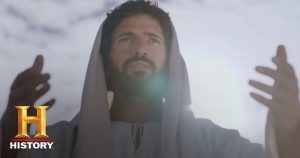 Starting Monday, March 25, 2019, the History Channel will be returning to Judea to reexamine the most influential story ever told. The new, eight part series will air over four weeks and retell the epic story of Jesus Christ's birth, death and resurrection. "Jesus: His Life" will feature "some of the world's most respected Biblical scholars, historians, faith leaders and theologians" including Bishop Michael Curry, Reverend Gabriel Salguero and Dr. Ben Witherington III.
The drama documentary is said to focus on "the emotional and epic story of the most famous man in history, through his birth, death and resurrection, all conveyed through a combination of scripted drama and interviews with prominent religious and historical experts." The series will feature eight different perspectives and tell the story of Christ through "eyes of the people closest to Him." These biblical figures all played a pivotal role in Jesus' life and include Joseph, John the Baptist, Mary, Caiaphas, Mary Magdalene, Peter, Pontius Pilate and Judas Iscariot. The perspectives will range from the moment of Christ's immaculate conception through His ministry, His execution and finally His resurrection. The final episodes will air, appropriately, just before Easter.
"'Jesus: His Life' brings together some of the world's top scholars, historians and faith leaders from diverse ideological and theological perspectives to tell the story of Jesus in a new way," said Mary Donahue, SVP, Programming and Development for History. "Viewers will see and experience the life of Jesus as never before, through this powerful and thought-provoking portrait of a man who is one of the most influential people in human history."
The trailer for the eight part series is now online, but "Jesus: His Life" is not the first time the History Channel has examined the Bible. The miniseries "The Bible" was broadcast in 2013, and the first episode was watched by over 13 million viewers. It was the second largest audience of the year. The second and third installments continued "to deliver blockbuster ratings" for a network that was largely known for its documentaries. The series earned three Emmy Award nominations and gave birth to a feature film spinoff entitled "Son of God" and a sequel series, "A.D. The Bible Continues."
In addition to "The Bible," History has a variety of one-off documentaries about Jesus and His life including "The Jesus Strand," "The Face of Jesus Uncovered" and "Who Killed Jesus?" Their new eight part series has big shoes to fill, but History is excited to live up to the challenge.