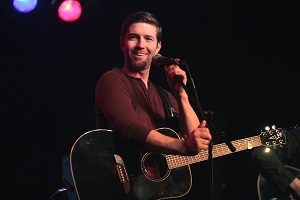 Country singer Josh Turner has already reached heights to which many artists aspire to by creating multiple platinum songs, a Billboard Number 1 release, and Grammy and CMA nominations. His latest album, however, is the achievement of one of Turner's more personal goals. "I Serve A Savior" is a collection of hand picked hymns, new original songs and live recordings of some of Turner's well-known hits such as "Me and God" and "Long Black Train." It also includes "The River (of Happiness)," a unique song written by Turner's wife, Jennifer, and their eldest son, Hampton. The entire Turner family–Josh, Jennifer, Hampton, Marion and Colby–sings on the track.
"It's an uplifting song," Turner said of "The River (of Happiness)." "And having Jennifer and the boys singing on it drives that home."
The 12 track album was released alongside a 90 minute live performance DVD of the new collection. It was filmed at Gaither Studios and included a special interview of Turner with gospel legend Bill Gaither.
"Josh Turner is a gifted artist," said Gaither. "We talked about his faith, his music, his wife and children, and about his gospel heritage he holds so dear. It is a joy to see a young man with so much talent using his gifts with purpose and excellence."
Turner himself has made it clear that this album is more than simply another feather in his country music cap. "Working on this project has definitely been a God-ordained blessing," he said. "I never would have thought I'd be doing this record this year, but God opened a door and I walked through it. I've seen many seemingly impossible things take place during the making of this record and I've felt God's anointing over it…My faith is the most important thing to me. I want people to hear the sentiment and heart behind this record. I want them to feel the same inspiration that I felt. I want them to feel that and hopefully they'll make these songs a part of their life."
The album was released on October 26, 2018, and the DVD will air as a one-hour television special hosted by Bill Gaither on several networks in North America.