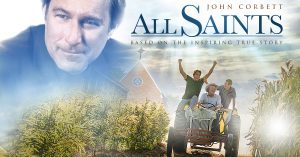 The hit-movie "All Saints" has lifted the hearts of Christians everywhere, reminding us that God has the power to do so much.
"All Saints" follows the true story of the salesman turned pastor Michael Spulock (played by John Corbett) whose first assignment is to close down a small church. The church had dwindling membership and an astronomical mortgage it could no longer pay. The land is set to become a big-box store.
However Spulock allows the church to welcome in refugees from Southeast Asia, and takes on a new mission. Nelson Lee plays Ye Win, an ethnically Karen man from Burma, a refugee from brutal civil war, who has just arrived with a group of families in the United States. Lacking support and resources, he turns up at All Saints' church. When the needy Karen land on his doorstep, Michael decides that he speaks to a higher power than money — and that God has instructed him to plant a farm on the church land to feed the Karen people and pay the mortgage. Along with the Burma refugees, the pastor works to plant seeds to help save the tiny church.
The film focuses on community and how God helped bring a group of people together. The actors and producers of the film talked about the true story behind "All Saints" and the great things it led to. The film was shot on location at the real All Saints' Church in Smyrna, Tenn., and many members of the church play themselves on-screen.
You can now buy "All Saints" on Blue-ray and DVD. Watch the official trailer below.