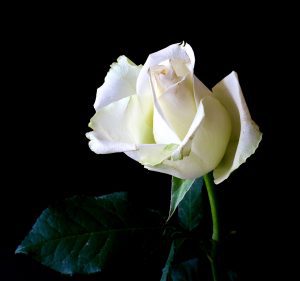 At the Golden Globes, stars wore black dresses to show support for victims of sexual assault and harassment. Celebrities at the Grammys followed suite with a symbol of their own. The music awards show was filled with stars who wore white roses to show their support for the Time's Up and Me Too movements. The group Voices in Entertainment called on celebrities to wear white roses in a letter that said, "As we are inspired by the #timesup campaign, we are encouraging the artists that we work with and our colleagues attending the 60th Annual Grammy Awards in New York City to wear a white rose to the ceremony on Sunday, January 28th…We chose the white rose because historically it stands for hope, peace, sympathy and resistance."
Some celebrities carried their roses, like Kelly Clarkson, while others, like Rita Ora and Lady Gaga, pinned their white roses to their dresses. Still others, such as pop singer Camila Cabello, wore their roses in other fashions. Cabello sported a ring that had a bundle of small white roses on it.
At a pre-Grammys party on Thursday evening, Rita Ora spoke out about her decision to join in the white rose initiative. "The white rose for so many years has been such a peaceful symbol in so many different parts of the world and for solidarity's so important now," Ora said. "I thought it was just a very graceful way of showing support to, I guess, everything that's going on in Hollywood, and I really do believe that the more visibility it gets, the more I think we can help, so that's why I wanted to do it."
Ora was referring, of course, to the massive sexual harassment and assault scandals that have rocked Tinsel Town in the past year beginning with the tsunami of allegations against producer and movie mogul Harvey Weinstein. The scandal spread like wildfire through the entertainment industry and toppled numerous other powerful figures in Hollywood. The increased awareness and visibility of sexual harassment and assault led to dozens of other women coming forward with allegations against men in numerous other industries including sports and politics.
The earth shattering wave of allegations and scandals lead to the Twitter campaign #MeToo and the Time's Up Legal Defense Fund which provides subsidized legal support to women and men in all industries who experienced sexual harassment, abuse or assault in their workplace.
The white roses were not quite as dramatic a statement as the sea of black at the Golden Globes, but Kesha's performance of "Praying" caught the nation's attention especially when she was joined by Camila Cabello, Andra Day, Ms. Lauper and the Resistance Revival Chorus all of whom were wearing white.
The final piece of the awards season will take place on March 4, 2018, with the 90th anniversary of the Oscars. It is unclear, as of yet, if the Oscars will join the Golden Globes and Grammys with a red carpet statement, but it is quite possible that the season's final award show will make its own statement of support.