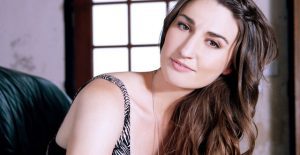 Six-time Grammy nominee Sara Bareilles is heading to NBC. Bareilles has joined the cast of the network's live production of "Jesus Christ Superstar."
Bareilles has been cast as Mary Magdalene, and will be performing next to some other famous celebrities. John Legend is set to play Jesus and Alice Cooper will be portraying King Herod.
"We're overjoyed to have Sara Bareilles play Mary Magdalene and I can guarantee that her interpretation of the standard 'I Don't Know How to Love Him' will become an instant classic," said Robert Greenblatt, chairman of NBC Entertainment. "I was lucky enough to see Sara in 'Waitress' and she gave as moving and as beautifully sung a performance as I've seen on a Broadway stage in a long time."
Amazingly, Bareilles wrote the music and lyrics for the current Broadway musical "Waitress" where she was nominated for a 2016 Tony Award for Best Original Score. She also earned a Grammy nomination for Best Musical Theater Album. Bareilles has released a total of five studio albums and has sold more than nine million singles/downloads. She's sold a total of one million albums, with her 2010's "Kaleidoscope Heart" reaching number one on the Billboard charts.
"Jesus Christ Superstar" will be a live adaptation of the Broadway musical. The production is the latest in a string of live productions over the years, which began with NBC in 2013 creating a live version of "The Sound of Music." Since then, they have also done "Hairspray," "Peter Pan," and "The Wiz."
Bareilles added, "To say I'm excited about this performance is the understatement of the century. This score and this musical have been a part of my life from a very young age and it will be one of the great thrills of my life to sing these iconic songs. It's incredible to see the beloved medium of musical theatre being embraced by television audiences, and this cast and creative team is extraordinary. I feel extremely lucky to be a part of the project!"
The production is set to air from Marcy Armory in Brooklyn, New York on Easter Sunday, April 1st.