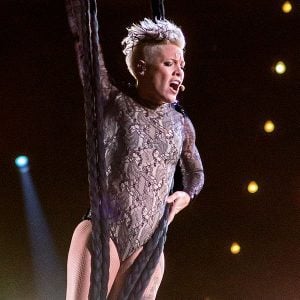 The NFL and NBC Television announced Monday that Pink will be singing the National Anthem before Super Bowl LII kicks off.
Pink will join the ranks of Luke Bryan, Lady Gaga, Whitney Houston, Faith Hill, Mariah Carey, Beyonce Knowles, and many other that have sung for the red, white and blue before the big game.
The Grammy-winning pop star also has a concert scheduled for February 2nd at the nearby Minneapolis Armory in connection with the Super Bowl.
Late last week, Pink wrote in a tweet that she is "really looking forward to 2018. I'm really excited about the Grammy's. Tour. Some other stuff that's a secret still and I can't wait til it's not a secret."
Being held at U.S. Bank Stadium, the 52nd Super Bowl will be on Sunday, February 4th. The game will later feature a Half Time show headlined by Justin Timberlake.
In addition, on behalf of the National Association of the Deaf, actor and director Alexandria Wailes will perform in American Sign Language both the National Anthem and "America The Beautiful."
Pink just came off of having an incredible 2017. Just this last October Pink released her 7th studio album, Beautiful Trauma, which was her first album in 5 years. Its first single, "What About Us," received a 2018 Grammy nomination for Best Pop Solo Performance.
The Super Bowl will take place shortly after this year's Grammys, where Pink is also scheduled to perform. She'll be singing her Beautiful Trauma single "What About Us."