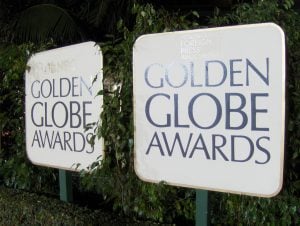 The Golden Globes took place last night, Sunday, January 7, 2018. These awards were the first to occur since Harvey Weinstein was accused of sexual harassment which set off the now-massive Me Too movement. Given that Hollywood was shaken to the core in the last few months, the Golden Globes had a very different feel to them than in past years.
The most visible difference was found on the famous red carpet. Long the focus fashion-lovers everywhere, the red carpet is usually filled when men and women in a wide variety of colors and styles. Reporters literally spend hours covering who designed various celebrities' dresses on a usual awards night. On Sunday, however, the usual array of colors was missing. Instead, most women and many men wore solid black to show solidarity with the victims of sexual harassment. This decision, which came just a few short weeks before the awards were to be presented, threw stylists and fashion designers into a panic. Some dresses had been designed as early as September 2017 but were no longer suitable for the event. To compound matters, the inventory of black fabric was limited.
Despite the behind-the-scenes scramble, most attendees worse black, and many of those who were unable to wear black wore special pins to show their support. Numerous celebrities also made it a point to bring activists as their dates, and the hosts of the show "E! Live from the Red Carpet," Ryan Seacrest and Giuliana Rancic, pledged not to ask the red carpet attendees who designed the clothing they were wearing. Instead, Seacrest and Rancic said they would talk with attendees about why the attendees were wearing black.
The increased emphasis on substance rather than style carried over into the speeches given by those who accepted awards. Sterling K. Brown gave a short speech that won over critics and fans everywhere when he accepted the Golden Globe for best actor in a television drama. While thanking Dan Fogelman, creator of NBC's "This Is Us," Brown said that "Throughout the majority of my career, I have benefited from colorblind casting…but Dan Fogelman, you wrote a role for a black man. That could only be played by a black man. And so what I appreciate so much about this thing is that I am being seen for who I am and being appreciated for who I am."
Oprah Winfrey also gave a speech that was wildly well received among both those attending the awards and those watching from home. While accepting the Cecil B. DeMille lifetime achievement award, Winfrey earned a standing ovation from her audience. "I've interviewed and portrayed people who've withstood some of the ugliest things life can throw at you," Winfrey said. "But the one quality all of them seem to share is an ability to maintain hope for a brighter morning, even during our darkest nights. So I want all the girls watching here, now, to know that a new day in on the horizon! And when that new day finally dawns, it will be because of a lot of magnificent women…and some pretty phenomenal men, fighting hard to make sure that…nobody ever has to say 'Me too' again."
While it was a very different awards show than viewers and attendees alike were used to, most people seem to be quite happy with what they witnessed.