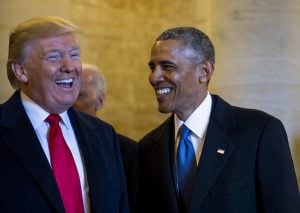 Every year Gallup asks Americans who they believe is the man they admire the most. This year's results were announced on Wednesday, December 27, and the list was once again topped by Barack Obama and Donald Trump. Former president Barack Obama took 17 percent of the vote, down from 22 percent in 2016, and current president Donald Trump came in a close second with 14 percent of the vote, down from 15 percent last year. Pope Francis, the 266th Pope and current head of the Roman Catholic Church, came in third in Gallup's poll with three percent of the vote.
The title of "Fourth Most Admired Man in the World" is going to have to be shared according to Gallup's poll. Reverend Billy Graham, Arizona Senator John McCain and billionaire engineer Elon Musk all tied for fourth place. Each man received two percent of the votes from Gallup's poll. If a three way tie were not enough, the title of "Fifth Most Admired Man in the World " will need to be shared by six different men. Benjamin Netanyahu, the Dalai Lama, Mike Pence, Bernie Sanders, Jeff Bezos and Bill Gates all received one percent of the votes in Gallup's pole.
Gallup also asked Americans who was the woman they admire the most. Hillary Clinton topped the list with seven percent of the vote, and Michelle Obama came in a close second with seven percent of Gallup's voters naming her as the most admirable woman in the world. Oprah Winfrey took third place, Elizabeth Warren came in fourth and Angela Merkel and Queen Elizabeth II tied for fifth place with two percent of the vote. Just as with the men's category, several women earned one percent of the vote and thus have to share their title. Condoleezza Rice, Melania Trump, Nikki Haley, Duchess Kate Middleton and Beyonce Knowles all tied for the title of "Sixth Most Admired Woman in the World."
The Gallup poll is conducted via telephone interviews that take place over a full week. This year, Gallup polled Americans from December 4 to December 11. Gallup contacted 1,049 people from all 50 states and the District of Columbia and spoke to a mixture of cell phone and landline respondents. Each respondent was asked "What man that you have heard or read about, living today in any part of the world, do you admire most? And who is your second choice?" The same question was asked about which woman the respondent admires most. In their results, Gallup noted that some individuals ranked highly in their poll, not because they are well-liked, but because they were prominent in responder's minds.
On their official results page, Gallup stated that nearly a quarter of Americans were unable to name who they believed was the most admirable man or woman in response to Gallup's open ended question. Another nine percent of people named a relative or friend as the most admirable man, and 13 percent of respondents chose a friend or relative as the most admirable woman. Gallup also noted that Republicans are more likely to name relatives or friends as their most admirable man or woman than Democrats or Independents. The implications of this, if any, are still unclear, but the difference is interesting.
What do you think of Gallup's list? Do you agree with it? Who would you name as the most admirable man or woman today?