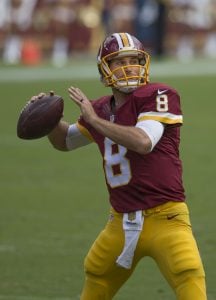 Kirk Cousins has been in talks with the Redskins for almost two years, discussing and negotiating terms of a contract. Washington offered Cousins a long-term deal which included $53 million in guarantees, however Cousins turned down the offer.
Cousins has elected to pay out the 2017 on a one-year deal. While speaking at Liberty University's convocation, Cousin explained he made the choice because he believes it was God's plan for him.
"I prayed about it and said, 'Lord, what do you want to do?' I just didn't feel at peace about signing a long-term contract. I think the Lord communicates with us in many ways, and one of those ways is through His peace. And I just didn't feel at peace."
"And I do believe that the Lord, at least in my life, likes to use one-year contracts and not long-term contracts. He likes to take me to the edge of the Red Sea and have me see there is water in front of me, there are mountains on either side, and there are Egyptians chasing me from behind. And He wants me to sit there for a moment and go, 'God, You better show up.' And then He parts the Red Sea and He's done that time and again in my life, on the football field and off the football field."
Cousins is openly a man of faith and felt his calling was not to commit to Washington for the long haul. At least this seems to be his mindset right now, and this has been a strategy he has used in the past.
Going year to year in terms of contracts can be risky, but the choices have made Cousins rich. He made a little over $19.9 million in 2016 to be the league's highest-paid quarterback. He retained the title in 2017 as well. Cousins finished the 2016 season as the third-highest rated quarterback in the league. We will see where God leads him to once the 2017 NFL season concludes.
Watch Cousins' full speech below.