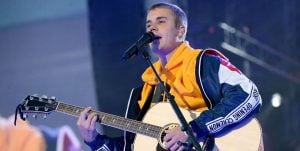 In early June of 2017, a suicide bomber left 22 dead and more than 50 injured at an Ariana Grande concert in Manchester. Just a few weeks later, over 60,000 people came together for a benefit concert to show support and stand in solidarity with the victims and their families.
Grande held the benefit concert, "One Love Manchester," with a crew of big-name acts such as Katy Perry and Miley Cyrus. The concert also showcased the famous pop star Justin Bieber.
When the time came for Bieber to take the stage, he started by sharing some emotional words with the crowd.
"I'm not gonna let go of hope, I'm not gonna let go of love, I'm not gonna let go of God. Put your hand up if you're not gonna let go."
The 23-year-old stood on stage with nothing but his guitar and a microphone, and sang two of his hit songs acoustically.
Choking back tears, Bieber began to preach to those listening.
"God is good in the midst of the darkness. God is good in the midst of evil. God is in the midst, no matter what is happening in the world, God is in the midst. And He loves you, and He's here for you."
Bieber wanted to remind everyone in attendance and those watching from home that God would never leave or forsake them. Bieber wanted to remind those that God is our protector, even when the world is not safe. Bieber took a beautiful opportunity that others would shy away from. He preached to the crowd of 60,000 plus people.
This isn't the first time that Bieber has been incredibly open about his faith in the Lord. However, it was not always like this.
The pop-sensation has spent the last year working on himself, rediscovering his faith and surrounding himself with strong believers who can lift him up and walk with him through his faith journey.
Bieber grew up with a strong faith, but the fame and success he found at a young age tested him. Bieber was discovered on YouTube in the late 2000s, and the singer quickly became a huge hit with teenage girls across the world. The rate of Bieber's success was astounding, and put pressure on the young star.
Bieber found himself quickly going off the rails and hitting tabloid front pages on a regular basis for things such as drugs, car wrecks, turning up late to shows, and teenage pranks. After a decade of crazy fame, it all caught up to the star. Bieber hit a rock bottom.
In 2014, Bieber connected with Carl Lentz, the pastor of Hillsong Church, New York. While spending time with the pastor one night, Bieber broke down and begin saying he needed Jesus. Bieber asked the pastor to baptize him right in that moment. This was a huge step in the right direction for the star. Lentz went on to say Bieber has "never been anybody but who he has professed to be, which is a work in progress."
A work in progress for sure, but the years following the baptism have shown how much Bieber really has grown.
Bieber told Complex magazine last year, "I shouldn't be on the planet still. I think it was by the grace of God," acknowledging how out-of-control his life had become. Bieber went on to say "I just wanna honestly live like Jesus…He created a pretty awesome template of how to love people and how to be gracious and kind."
Bieber released an album in 2015 titled Purpose which featured some Christian lyrics. The song 'Life is Worth Living' had some of the most profound lyrics, which include: "God sent an angel to help you out. He gave you direction, showed you how to read a map but that long journey ahead said it ain't never over even in the midst of doubt…They try to crucify me. I ain't perfect, won't deny. My reputation's on the line. So I'm working on a better me…People make mistakes. Only God can judge me."
Since, Bieber has consistently brought God into his concerts. At an LA concert in 2016, Bieber brought pastor Judah Smith on stage to preach. Here, Bieber again credited God for helping him get back on his feet during his string of poor choices. Later, at an event on the night of the Nice, Paris terrorist attacks, Bieber stopped to lead a crowd of 10,000, as well as millions watching at home, in prayer.
"God, we just thank you so much through all the pain and all the darkness,' he said, eyes shut, his right hand nervously clutching his left bicep. 'God, you still shine your light. Help us to just focus on you through it all."
Bieber is singing about grace, hope and redemption to inspire those who are also struggling. The world is a work in progress, much like Bieber tries to express about his own self and his faith journey. Bieber has completely transformed from a party-loving teen to a mature Christian who isn't afraid to admit his mistakes. Bieber's openness and willingness to speak about the Lord during the Manchester benefit concert is a perfect example of God's ability to transform anyone.