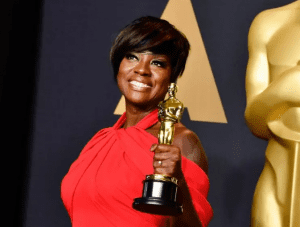 History was made at the 2017 Academy Awards with a record number of wins by black stars. Furthermore, this was the most diverse group of Oscar winners since the show began in 1929. Until this year, the most diverse winner group was at the 2009 Academy Awards when three black stars won an Oscar.
In an upset that was made even more shocking by the way it was announced, 'Moonlight' won the Oscar for best picture, a crowning achievement for African-American filmmakers. Presenter Faye Dunaway, onstage with fellow actor Warren Beatty, mistakenly said that 'La La Land' had won the best picture award. The winners had already taken the stage when they were corrected. PricewaterhouseCoopers, which manages the balloting, took responsibility for the envelope mix-up.
This last-minute mistake allowed for the black community in Hollywood to make history by breaking the record number of wins.
History was not only made by the number of collective wins of stars of color, but also shattered records within many of the individual categories as well. Viola Davis took home the Oscar for best supporting actress for her role in 'Fences,' becoming the first black woman to win an Oscar, Tony and Emmy award for acting. Mahershela Ali became the first black Muslim actor to take home an Oscar for his role in 'Moonlight,' giving him a win for best supporting actor. In addition, Barry Jenkins and Tarell Alivin McCraney won for best adapted screenplay and best picture for 'Moonlight,' and director Ezra Edelman won alongside filmmaker Caroline Waterlow for best documentary feature for 'O.J.: Made in America.'
The Academy has been increasing attempts to evolve it's voting ranks following the #OscarsSoWhite controversy, as AMPAS President Cheryl Boone Issacs was the leader behind the campaign to diversify the organization's membership last year. The Academy invited a record number of new participants, extending offers to 683 film industry professionals from 59 countries. Forty-six percent of invitees were female, while 41 percent were people of color.
Furthermore, four of the Academy's 2017 nominees for best picture revolved around characters of color; Garth Davis' 'Lion,' Theodore Melfi's 'Hidden Figures,' Barry Jenkins' 'Moonlight,' and Denzel Washington's 'Fences.'