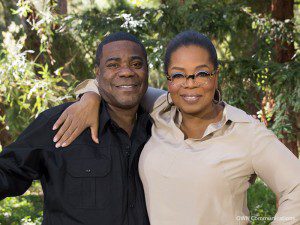 Oprah Winfrey talks to actor/comedian Tracy Morgan for a rare conversation as he begins to step back into the spotlight following a devastating multi-car crash in 2014 on "Super Soul Sunday" this Sunday, April 3 at 11 a.m. ET/PT on OWN: Oprah Winfrey Network.
The near death accident has forever changed Morgan's life and helped to change his views on many aspects of living. Morgan speaks candidly with Oprah about what he's most grateful for after his accident and the new-found love he has for life.
Tracy is best known for his seven years as a cast member on "Saturday Night Live," starring on the hit comedy "30Rock" and was named one of Barbara Walters' 10 Most Fascinating People of 2015.
To watch a sneak peek of the highly anticipated episode click here.