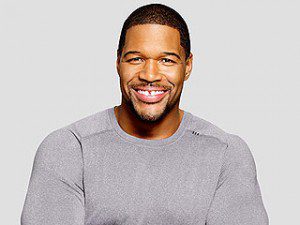 Former Football Michael Strahan is leaving the "Live! With Kelly and Michael" morning program to join ABC's "Good Morning America" for a full-time spot starting in September, ABC announced Tuesday morning. ABC is hoping Strahan will help it gain new ground in TV's ever-intensifying morning-news wars.
Strahan has become a large TV presence with his stints as a commentator for Fox Sports' football coverage and being the host of a new kid-award franchise on Nickelodeon. He will retain his duties as a football analyst for Fox in the fall.
Strahan has been a twice-a-week presence on "GMA" for the past two years, bringing a new energy to the broadcast.
"Michael has been a stellar addition to the broadcast.  Over the past two years on 'GMA,' he's proven to be a tireless and versatile broadcaster with an incredible ability to connect with people, from veterans to American pop culture icons and newsmakers," said James Goldston, president of ABC News, in a memo sent to staff. "He will end a four year run as Kelly Ripa's co-host on 'Live!,' where he has honed his skills as an interviewer with genuine warmth and a quick wit.  At 'GMA,' he'll now have even more opportunities to tell stories that inspire, inform and empower people.
Strahan is joining "Good Morning America" at a critical time when morning shows are losing overall viewership. During Strahan's time on "Live," it was ranked number one among entertainment daytime talk shows.