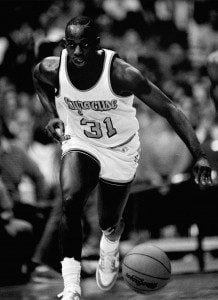 Former Syracuse great Dwayne 'Pearl' Washington passed away at 52. Washington was diagnosed with a brain tumor last summer and received surgery in the fall.
Washington grew up in Brooklyn, New York where he first received his nickname "The Pearl" for his skills on the court. Nearing the end of High School, Washington became the most sought after recruit in 1983. He committed to Syracuse under Coach Jim Boeheim.
Washington proved to be a great asset to the Syracuse team and is recognized for helping Syracuse become a well-known name in basketball.
Washington earned All-American status from 1984-1986. He was named first-team All-Big East twice, and he was the conference tournament's most valuable player in 1986. He led the Orange in assists and steals during each of his three seasons with the school. Syracuse was 71-24 when Washington was with the team.
In 1986 Washington was the No. 13 overall pick by the New Jersey Nets in the NBA draft, with whom he played two seasons. Washington played his final NBA season with the Miami Heat.
Syracuse retired Washington's No. 31 jersey on March 2, 1996.