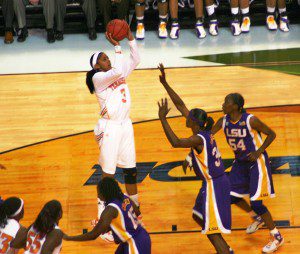 One of the longest streaks in women's college basketball has ended. For the first time in 31 years, the Tennessee Lady Vols was not ranked among the top 25 teams in the Associated Press poll.
The beginning of the Lady Vols streak started on February 10th, 1985 during Pat Summitt's fifth of 38 years as head coach. The fall from the AP poll follows the disappointing loss on Sunday to LSU.
How impressive are the Lady Vols? According to the Associated Press, Tennessee stayed on the poll for 565 consecutive weeks. The top-ranked and undefeated Connecticut has been ranked for 428 consecutive weeks, meaning they will need about seven additional seasons to match Tennessee's mark.
Tennessee was a huge pioneer in the ascendance of women's college basketball and women's sports as a whole. Coach Pat Summitt won eight national championships and 1,098 games – more than any man or woman.
The Lady Vols brought widespread attention and respect to women's basketball. Tennessee played in the inaugural Final Four during the N.C.A.A. postseason tournament for women. Summit won her first national title in 1987. The Lady Vols won again in 1989 and 1991, and then won three consecutive championships in 1196, 1997 and 1998.
"It's really an amazing streak and a tribute to all of the players and coaches who've contributed to the Lady Vols' rich tradition of excellence," Holly Warlick, the current basketball coach, told The Associated Press.
The team's success helped to pave the way for women's sports, and their title and legacy will not be forgotten.