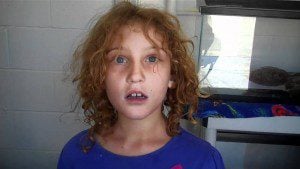 Michael and Susan Schofiled were elated to give birth to their first child, Jani. From the day Jani was born, however, the couple said knew something was different about their baby. They sensed Jani was smarter than the average baby (she has since been tested with a genius IQ) and their newborn had strange sleeping habits. Jani's parents look back on home videos of Jani as a toddler, and now see the dark and twisted signs that something very strange was going on in their daughters mind.
Jani was diagnosed with early-onset schizophrenia at the age of 6. In the beginning years, her parents chalked up the hallucinations and weird statements to an overly active imagination. Two-year old Jani had many imaginary friends. It was when those friends became violent that the couple knew something was wrong. When Jani was 5 years old, her behavior changed from temperamental to dangerous.
"She would scratch until she drew blood. She bit until she drew blood. She would try to run her nails down my face to try and scratch my eyes out" her father Michael said.
Still, the family refused to give up hope on their daughter.
Jani's hallucinations manifested into animals and little girls. Imaginary friend Wednesday (a rat) and 400 (a cat) would tell Jani to hit her parents. Jani explained if she didn't, the two would hurt her instead. Jani's hallucinations became so intense that she would try and hurt herself, asking her mom how she would be able to kill herself.
After having their second child, Michael and Susan realized they needed to separate Jani and her new brother, Bodhi. Jani's hallucinations would prompt her to hurt the newborn, and on several occasions she stated she wanted to kill her brother. The parents rented a second apartment to keep the two safe.
"This changed the nature of the war (on Jani's illness) by allowing us to 'evacuate' Bodhi to safety… With Bodhi no longer under constant threat, we could continue the fight for Jani," Michael wrote in a blog post.
At age 5 Michael and Susan decided to hospitalize their daughter after being unable to control her any longer. With the help of many doctors, several changes in medication, and behavior therapy, Jani was able to calm her explosive outbreaks. Even with the help of the medical community, Jani struggled year after year with her schizophrenia. It is incredibly rare for a child to develop this kind of mental illness and Jani is considered one of the youngest children in history to be treated for schizophrenia. Unfortunately there is no cure.
Today, Jani is 12 years old and with the help of many psychiatric resources, financial donations, and friends and family, her schizophrenia is finally under control. Jani acknowledges that she has a disorder and that the things she sees are not always real. Slowly, the Schofield's fought back against Jani's imaginations – so much so that they are not finally moved back into one apartment. They say Jani is no longer a danger to her brother and they now instead are very close. Her parents are elated to have the family back together again.
Jani has come a long way since she was first diagnosed. Jani finished the sixth grade at a public school and is hoping to be more integrated into a normal classroom setting over the next couple of years. Her parents find her to be an inspiration to many other children suffering with mental illness. Jani's story shows the realities of recovery but ultimately, there is hope for progress and things do get better.
The Schofields share their story to help other families that are dealing with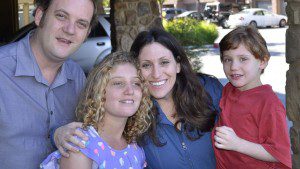 children with mental illnesses. Out of the terrifying ordeal, the family decided to do something positive by creating The Jani Foundation, a group that works to provide better care for mentally ill children and connects donors to families of mentally ill children in need.
"Jani's now a source of inspiration," mother Susan said.