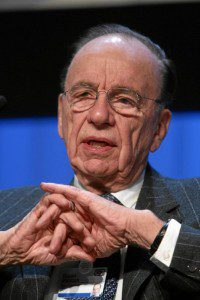 Media giant Rupert Murdoch is stepping down from 21st Century Fox as CEO. Murdoch, 84, is expected to give his son James the position CNBC reported, and will remain the executive chairman of the network. Murdoch has been working on his exit since March 2014.
The Australian-born Murdoch said "James will have the primary role in running Fox while Lachlan will take on a broader strategic role from his co-chairman position."
Murdoch is no stranger to controversy as he faced allegations that his company News of the World, owned by his News Corporation, hacked the phones of people and public figures. The British and American government investigated him on allegedly bribery and corruption.
Forbes listed Murdoch the 33rd richest person in the US with an estimated 13.4 billion, and was ranked the 33rd most-influential person in the world in 2014.