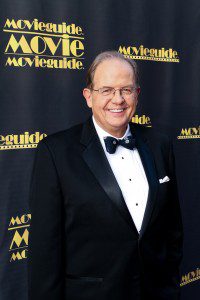 Newsmax just released their annual list of the top 100 Christian leaders in America who make a real impact on modern lives. Included in their list is Dr. Ted Baehr, founder and publisher of the family-friendly Movieguide. His position ranks before other influential Christian leaders such as Chuck Norris, Kirk Cameron, Carrie Underwood, Pat Boone, Sarah Palin and more.
Dr. Ted Baehr also serves as chairman of the Christian Film & Television Commission ministry and is known for his annual gala awards ceremony which has become a major influence in promoting Christian values in Hollywood. He has stated, "I firmly believe that he who controls the media controls the culture so to be recognized amongst such individuals is an honor and I am thankful so many share my same passion for leading Christians in such an entertainment-based culture."
Newsmax's annual list includes many in the entertainment industry this year. Entertainment and sports stars are not usually considered religious leaders, but today their influence often exceeds that of pastors and televangelists. According to Newsmax, accepting Christ and committing sin against Him are both done sitting at a computer screen today. In response, the new world is bringing forth Christian leaders from some unexpected walks of life. Visit Newsmax to see the entire list of top 100 Christian leaders in America today.