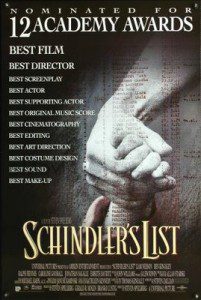 It's hard to believe but 20 years ago on March 1, 1993, Steven Spielberg began production on Schindler's List. The film's lessons of courage and faith continue to inspire.
The film is centered on Oscar Schindler, a German businessman who risked his own life and fortune to save more than 1,100 Polish Jews during the Holocaust by giving them work in his factories.
"None of us make movies thinking they are going to do anything other than come out on all the other ancillary markets, come out on DVD and come out on television and that's going to be it," said Spielberg. "The shelf life of Schindler's List has renewed my faith that films can do good work in the world, but it's up to people to allow those images to be impressionable, to last and for people to do something about it."
The film was nominated for 12 Academy Awards, winning – best picture, adapted screenplay, cinematography, art direction, film editing, original score and best director. Spielberg originally thought that he was not mature enough to make the movie however after reaching out to several other producers and getting rejected, he decided to take on the project.
"My parents, who weren't involved in the Holocaust, often talked about the Holocaust," said Spielberg. "It was a subject that was very open in my formative years, and I saw a lot of documentaries. I was just like a passive witness; I wasn't doing very much about it. I was just taking it all in. I couldn't believe that something like that could've happened in the 20th century – it was just unfathomable – but it did."
The film was re-released with new digital technology and exclusive behind the scenes footage. "I still feel that Schindler's List is the film that has made the most amount of material change in the world," said Spielberg. "When I went to Poland to start working on Schindler's List, I quickly realized after a couple of days of filming that this just wasn't a natural reflex of my filmmaking instincts — this was going to be something that was going to change my life."