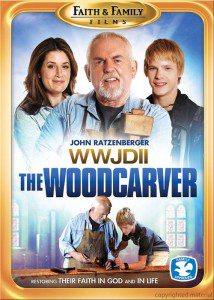 It can be difficult to find family friend entertainment these days. Even cartoons aimed at children can have poor attitudes and language that you'd never want your little ones spouting off. There have been any number of times where, in shock, I've turned something off that my kids were watching that I thought was wholesome.
So it's nice to see a series of films that you know will help you protect your family from unsavory content rather than expose them to it. I haven't seen "The Woodcarver" yet, but it comes with the trustworthy Dove Foundation family seal of approval. Strong morals and solid lessons of faith are guaranteed, and you've even got John Ratzenberger of Cheers fame!
Now then…. queue the blurb!
Rebelling against his parents and the broken home he comes from, fifteen-year-old Matthew Stevenson makes a destructive choice to get attention: he vandalizes the church his father is renovating. To avoid criminal charges, he agrees to repair the damage he caused to the intricate carvings and finds himself working alongside Ernest Otto (John Ratzenberger), a talented but reclusive woodworker. Laboring together, an unlikely friendship forms and both come to realize that all things are possible with faith, family and friendship.
The film will be available on DVD March 6th, so be on the lookout!