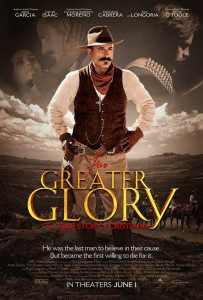 UPDATE: This is an exclusive first look at the poster for the film!
I don't know much about For Greater Glory. I know it stars Andy Garcia, Evan Longoria, and Peter O'Toole. I know it's the true story of the Cristiada, a Mexican civil war that happened in the 1920s. I know it's about the persecution of Catholics by the predominantly Marxist government of the time. And I know that the man who led the uprising (played by Garcia) was an atheist who chose to fight on the side of the Christians because he believed in their right to freely worship.
But that's about it.
When I first heard about the film I definitely got a "movie of the week" vibe. But after watching the trailer and reading a little bit about the Cristiado conflict (Wikipedia is your friend!), I am genuinely excited about this film. It feels very much like The Mission, which I consider to be one of the greatest films of all time. Will it be an epic film that actually makes you think and take stock of what you believe? Judging by what's on display here, the chances of that are good.
[bcvideo vid='1526006247001′ pid='96582452001′ height='410′ width='480′]