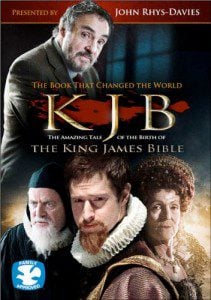 Published in 1611 (which makes this year its 400th anniversary), the Authorized King James Version of the Bible became "the most influential version of the most influential book in the world, in what is now its most influential language." Regardless of whether you agree with it or not, it is practically inarguable that no other printed English work has had more of an impact on the world than the KJV Bible.
A new docu-drama (a mix of narration and vivid historical reenactments) titled "The Book That Changed the World: The Amazing Tale of the King James Bible" will be available on DVD April 5th. Narrated by John Rhys-Davies (you know, Gimli the dwarf from "The Lord of the Rings"), the film takes viewers through the turbulent political and religious times of King James I of England as he sought to commission a fresh translation of the Holy Scriptures.
And hey, guess what – we're giving away 10 copies! All you need to do is leave a comment on this post describing the KJV Bible in 1 word. Yup, that's '1' as in 'one word and one word only.' Your word could be challenging, incredible, or even just long. Oh, and be sure to include a real email address (don't worry, your email will be kept private and we'll only use it to contact you if you win). Leave your comment by midnight on April 10th to be eligible. And please read the contest rules and regulations before entering.
Good luck!