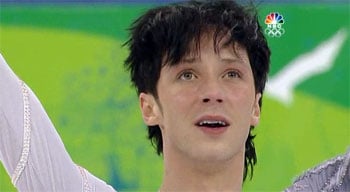 If you've been watching the Winter Olympics and following the men's figure skating competitions, you've probably familiar with Johnny Weir.
You might have also heard the word "redemption" thrown around a lot by commentators across different sports at these Olympics–the word has been attached to everyone from Lindsey Jacobellis (women's snowboarding) to Lindsey Vonn (women's Alpine skiing) to Evan Lysacek (men's figure skating)–to describe how athletes who suffered personal losses at Turin could bounce back at Vancouver.
Four years ago at Turin, Weir had been a Olympic medal hopeful who was in second place after the short program. In the long program, he stripped his routine of various jumps and spins, lowering his technical score and coming in fifth place.
Since then, Johnny Weir has made headlines with his "crazy antics" (including being threatened by animal rights activists after wearing fur) and outspoken personality, as some figure skating commentators have been saying. Despite being known more for his off-the-ice personality than his skating, Weir performed a beautiful long program without missing a spin or crashing to the ice like his other competitors.
His program, titled "Fallen Angels," was about his fall from Olympic grace (so to speak) since Turin. Even though he wasn't considered a strong Olympic medal contender, Weir still managed to soar to new heights (pun!) with his relaxed, assured, and graceful routine.
While Weir didn't redeem himself with a gold medal like Vonn or Lysacek, he still redeemed himself on ice by pouring his soul into the program. He still remained in sixth place in the short and long programs, but the standing ovation he received after the long program revealed what true potential Weir has on the ice.
Watch Johnny Weir's "Fallen Angels" performance here.
You can also learn more about Johnny Weir by watching an upcoming eight-part Sundance Channel series called "Be Good Johnny Weir."