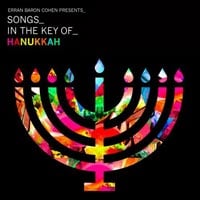 "Dreidel, dreidel, dreidel, I made it out of –" REMIX!
Hold on to your dreidels, everyone – we're about to go beyond the Adam Sandler Hanukkah song.

To commemorate Hanukkah this year, The New York Times Magazine did
a brief piece about New York's new Jewish music scene
, using the Festival of Lights as the hook. They start with most prominent Jewish musical crossover artist, reggae hip-hopper
Matisyahu
, who embarked on a "Festival of Light" concert tour for the duration of Hanukkah. Then, they explore some of the newer Jewish artists, including Alicia Jo Rabins from
Golem
and
Girls in Trouble
, and a dip into
Hanukkah metal, by Gods of Fire
.
A little more research would have turned up the new
kids' band The Macaroons
, also off
JDub Records
(which we covered a few weeks ago here on Beliefnet). Just because it's billed as a kids' band doesn't mean you won't end up singing along – and it's way less annoying than "Dreidel, Dreidel."
Perhaps also worth a mention, as one commenter on the Times piece notes, is Erran Baron Cohen's
"Songs in the Key of Hanukkah"
– although it premiered last year, it's still one of the more eclectic, musically satisfying and non-silly Hanukkah endeavors out there. It may not qualify for the Times' definition of "new," but if you haven't heard it, it's new to you.
Plus, although the Times mentions Neil Diamond's cover of Sandler's "Hanukkah Song," and embeds the video at the bottom of the piece, they didn't note that the song is off "Cherry, Cherry Christmas," a new Diamond album of Christmas songs: this is the only song that Diamond, who is Jewish, devotes to Hanukkah. (Or rather, "Chanukah.)
Also, the animated video for the song can be personalized – you can upload your photo and send it to friends and family as an
ecard greeting
, so instead of looking at some anonymous lumpy Jewish kid in the window envying Christmas trees, you can BE that lumpy Jewish kid in the window. Now that's a Hanukkah present to sing about. .