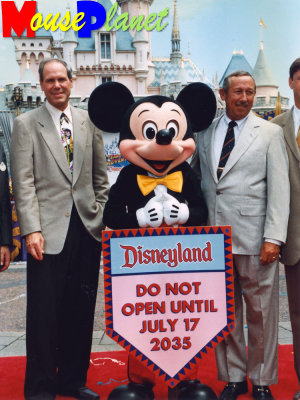 Roy E. Disney, son of Roy O. Disney and nephew of Walt Disney (who together founded Disney), died in Newport Beach, CA today at the age of 79. He worked in the family business for years, as an editor, screenwriter and producer, and was on and off the board of directors for the company due to company politics and conflicts.
According to the obituary in Forbes, two of the short films he worked on were nominated for Academy Awards: the 1959 "Mysteries of the Deep," which he wrote (best live action short), and the 2003 film "Destino," which he co-produced (best animated short).
While he wasn't involved in the company's daily life, he felt a strong connection to the company formed by his uncle and father, stepping forward to correct the course of the company when he believed it was heading onto the wrong path:
Although he generally stayed out of the spotlight, Roy Disney didn't hesitate to lead a successful campaign in 1984 to oust Walt Disney's son-in-law after concluding he was leading the company in the wrong direction. Nearly 20 years later, he launched another successful shareholders revolt, this time against [Michael] Eisner, the man he'd helped bring in after the previous ouster.
Dissatisfied with Eisner, Disney (together with fellow board member, friend and future investment partner Stanley Gold) resigned and launched a shareholder revolt. (See this letter of resignation, posted to Twitter by patrickharnett.)
Disney rejoined the board and rose to become the company's vice chairman and chairman of its animation division, where he helped oversee the making of such hit films as 1994's "The Lion King."