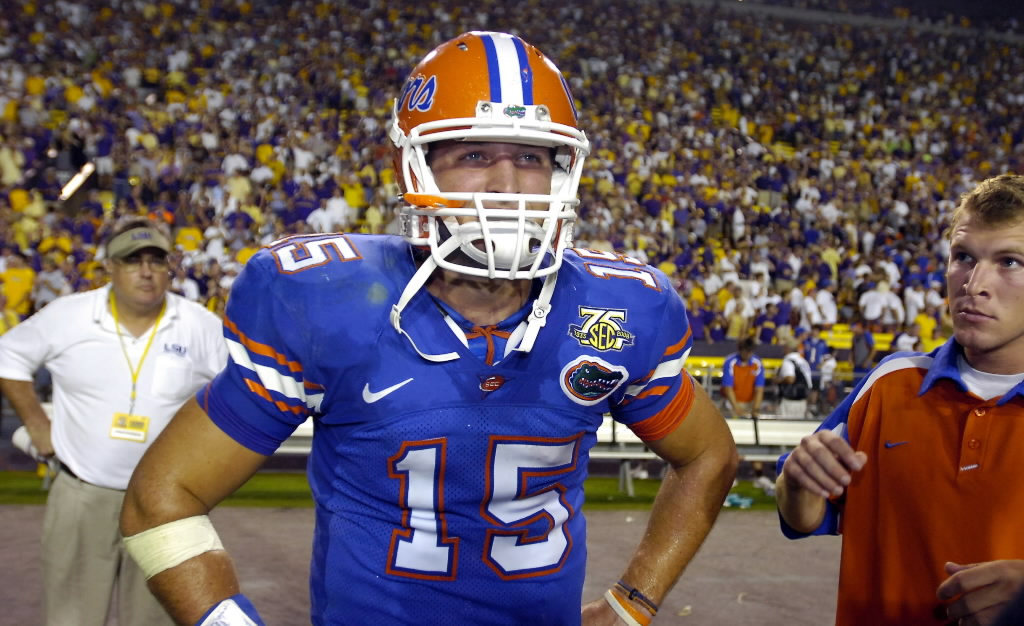 I have more than had my fill of Tiger Woods drama, even though I realize the secrets, lies, implications, of that whole mess have no longer run its course in the media. But one thing I find a little sad about all of this Tiger coverage is that another athlete, a man who seems to have lead an exemplary life on and off the field, is being given short-shrift by major media outlets. I realize that after the results of last week's Alabama-Florida contest, Florida Gator Tim Tebow will probably not win anotherHeisman this weekend, but Tebow has had one stellar and completely unique college career and has used it as a platform to evangelize better than any athlete in recent memory. I realize that is not as exciting as how many mistresses Tiger might have had, but Tebow deserves more of a stage for his swan song than he is getting this week.

Tebow , who recevied an award for SEC offensive player of the year this week, is currently in New York doing press for the Heisman ceremony Saturday. He's been able to discuss his legacy both – athletic and spiritual – with most newspaper outlets in at least a few soundbytes.However, he has only made a couple of quick appearances
on TV talk shows where he has respectfully answered questions about everything from crying at the end of last week's game to choosing to paint his face with different Bible verses on game day.
So as everyone seems to be bemoaning the loss of one sports idol for his bedroom antics, I wish the press and sports fans alike would take a few more moments to not idolize Tebow, but certainly joyously celebrate what a refreshing presence he has been in the sports world and lets hope the wise counsel of his missionay parents will help him with his transition to the NFL.
Oh and one little side note. If Idol Chatter readers think it was easy for me to write such a glowing post about a Gator, well, let me inform you that this girl grew up watching the glory days of the Big Ten with the awe and reverence it deserved, so saying anything positive about the SEC is truly a groundbreaking effort for me as a writer and a football fan. What's more, if you know anything about Alabama coach Nick Saban's history, well, you know that I am also going have to become a temporary Texan.