Let's out with it: Jared and Jerusha Hess, who wrote (both of them) and directed (Jared) the 2004 independent film "Napoleon Dynamite" are Mormons. Can we move on now? We cannot. The Hess family religious affiliation gets brought up in nearly every story about them–which are proliferating now that the couple are promoting their new movie, "Gentleman Broncos." I don't have any problem with asking people's religion, except that, having raised it, nobody seems to know what to make of the fact.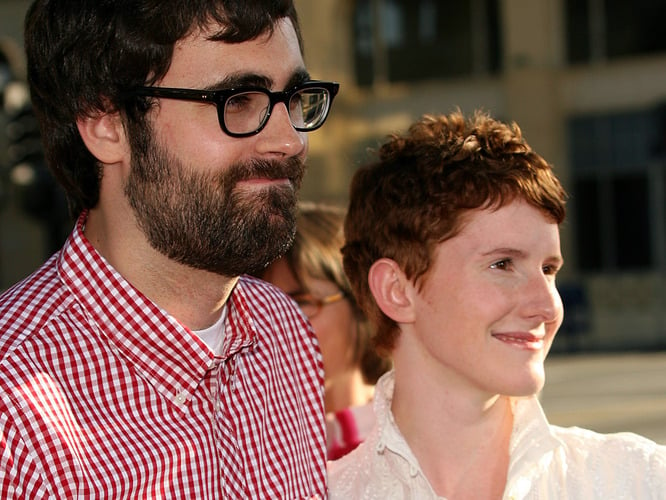 Take yesterday's profile of Jared and Jerusha on NPR. Scott Simon introduces the segment by noting that this "atypical Hollywood team" lives "in Utah with their two kids"–making them a Hollywood couple how?–"and are members of the Church of Jesus Christ of Latter-day Saints." The story is a fun listen, and I recommend it, but other than a reference to the Hesses' meeting at Brigham Young University, we get no further treatment of their religion.
Which is a shame, because the two can be pretty funny about their faith. Check out this interview on the Writer's Guild of America site, in which Jared imagines his grandfather upbraiding him for using coffee (which LDSer's frown on) in a scene. Even then, Jared has to clarify the interviewer's oblique reference to "the Mormon question": "You mean how we can reconcile our faith with our industry?" he asks helpfully.

If these two filmmakers weren't upright Mormons, you'd swear there was a hint of satire in Jared's question, since they struggle to find much to reconcile. "I guess there are only two different types of film in the world. There's porn, and then there's Disney fare," deadpans Jerusha. Jared recalls how when the Hollywood crew came to Salt Lake City to work on their last movie ("Nacho Libre," I'm guessing), "a lot of the stereotypes they may have seen or heard about were put to bed because we're just a lot of good people." Can we put the matter to bed then? I suspect we can't.