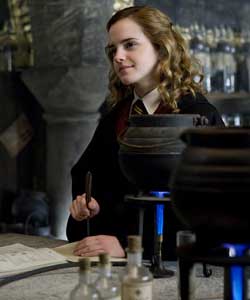 Life seems to be imitating art: Emma Watson, aka. Hermione Granger from the "Harry Potter" movies, is the descendent of a woman who was accused of being a witch during the 16th century.
Telegraph.co.uk reports that a genealogist from Ancestry.co.uk, Anastasia Tyler, traced Watson's lineage to a woman named Joan Playle from Essex. Playle was accused of witchcraft, along with 270 other people under Queen Elizabeth I, in 1592 and excommunicated from the church (instead of being burned at the stake).
While Watson's lineage seems appropriate for her role, her "Potter" co-stars have lineages fit for muggles. According to People.com, Daniel Radcliffe's (aka. Harry Potter) ancestors were bakers, grocers, and plumbers while Rupert Grint's (aka. Ron Weasley) ancestors include a gunsmith.