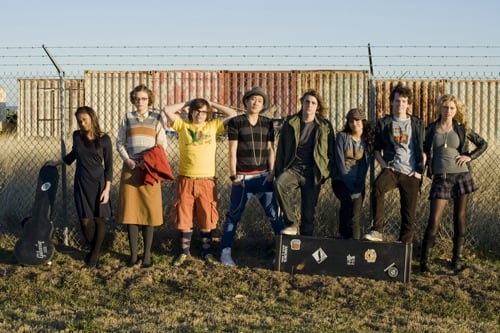 People have been making fun of me for wanting to see 'Bandslam,' which just showed up in theaters (finally) Friday. I was a little embarrassed to admit that I wanted to see the movie simply because I can't help but adore Vanessa Hudgens of 'High School Musical' fame. Which is the same reason I went to go see '17 Again' earlier this summer (Zach Efron). Fine. I'm shameless.

Though, after just walking out of 'Bandslam' as the credits rolled, I felt like telling passersby on the street to get out of the heat and watch this gem of a high school movie. Imagine a dash of '10 Things I Hate About You,' with the love for alternative music from 'Nick and Nora's Infinite Playlist' thrown in, plus (yes, of course), a helping of that feel-good 'High School Musical' charm, and last but certainly not least–remember Patrick Dempsey's turn as the geek in '
Can't Buy Me Love
'? Before he became McDreamy?–well meet Gaelan Connell as Will, who's channeling his inner Patrick Dempsey-as-geek for this film. And who knew that Vanessa Hudgens could channel the alterna-chick?

The plot is basic: there is a battle of the high school bands (aka, BANDSLAM) coming up, and a ragtag ensemble of geek(ish) students, managed by Will, who hope to win. Peppered with the narratives of Will's ongoing fan mail to David Bowie–a nice added touch–we accompany Will on his journey from untouchable outcast to lovable geek-with-adorable-girlfriend all via him putting together a fantastic band. While much edgier than 'High School Musical,' 'Bandslam' captures its wholesome feel goodness like few other high school movies of late. It might even (gasp) make you feel all inspired and warm and gooey inside. I loved it. Go see it.