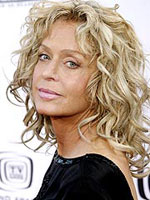 As Holly Rossi over at Fresh Living has posted, Farrah Fawcett is reportedly in grave condition and has been given her last rites, a Catholic ceremony performed by a priest for the dying. Her family and friends have gathered at her bedside.

The "Charlie's Angels" actress has been battling anal cancer since 2006, a journey documented in the recently broadcast "Farrah's Story."
Post your thoughts and prayers below.
UPDATE 1:00 p.m. ET:
CNN is reporting
Farrah Fawcett has died.