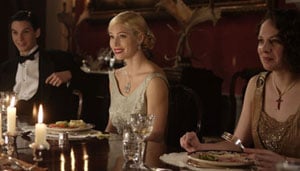 At about this time every summer I begin to look desperately for a change of pace at the Cineplex. I am tired of action packed blockbusters, and even broad, recycled comedies like "The Proposal" don't quite do for it for me. This summer's anecdote to my movie-going dilemma is "Easy Virtue." It's a remake– sort of–of a lesser known play by British playwright Noel Coward. It is a period piece set in the Roaring Twenties and is a war of the classes. While the movie is slight on plot it is full of glitz and glam and downright silliness while reuniting two of British film's elite–Kristin Scott Thomas and Colin Firth–alongside serious actress wannabe Jessica Biel. While not as great as other movies of this genre, "Easy Virtue" is easy enough to enjoy as a carefree summertime distraction.

Biel plays a saucy American young widow, Larita, who is scandalous for driving race cars and allegedly having an "easy virtue" when it comes to men. When she impetuously marries an upstanding young Bit, his upper crust family is less than thrilled, especially the man's mother, Veronica (Kristin Scott Thomas). What ensues is something out of a dated version of "Monster-in-Law" where Veronica does everything possible to sabotage Larita so her son will divorce her and reunite with his ex-girlfriend. Larita is, of course, up to the task and fires back with a few tricks of her own. However, the war between Larita and the family has a few unexpected consequences and not everyone ends up happily ever after.
This movie clearly wants to tap into the audience that enjoyed another recent period comedy: "Miss Pettigrew Lives for a Day." "Easy Virtue" has an exuberant, jazzy soundtrack, attention to period detail and loads of enthusiastic performances. However Biel, try as she might, is not quite up to the demands of the role of Larita and seems a little bit out of place amongst a cast of acting giants.
Still it's a relatively minor quibble. A few flaws don't negate the breezy nature of the film and its ability to transport the audience back to a different time and place.