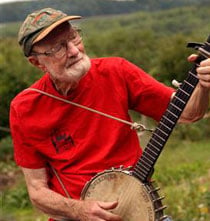 Pete Seeger, the great American folksinger, just turned 90 years old. Pete is a great believer in the power of music to bring people together. So what better way to celebrate his birthday than a sing-along with more than 15,000 people at New York's Madison Square Garden? The concert on Sunday night benefited Seeger's green education ship, the Sloop Clearwater, and dozens of legendary musicians performed–among them Joan Baez, Bruce Springsteen, John Mellencamp, Dave Matthews, Roger McGuinn, Emmylou Harris, Kris Kristofferson, Joan Baez, Tom Paxton, Richie Havens, Billy Bragg, Rufus Wainwright, and others influenced by Pete's music.

Seeger, who was blacklisted , jailed, and couldn't get a job in the 1950s, lived long enough to play at President Barack Obama's inaugural celebration at the Lincoln Memorial, leading the audience in "This Land Is Your Land." Who can forget the sight of this nonagenarian sprinting across the stage like a kid? And now he's being proposed for
the Nobel Peace Prize
.
In his
exclusive interview with Beliefnet
, Pete said, "If there's a human race here in one hundred years, it will be because we learn how to participate with each other, even though we may disagree about many things."
For more check out the complete interview.
–By Wendy Schuman