For all you "Twilight"-obsessed out there (I'm looking at you Donna Freitas), check out what I just received in my inbox–a first look at the upcoming "The Twilight Saga: New Moon," which hits theaters November 20. The new film stars all your favs from the first "Twilight" movie, Robert Pattinson, Kristen Stewart, Taylor Lautner, etc.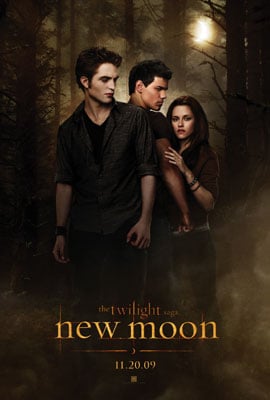 Here's what the teaser one-sheet says about the new movie:
In THE TWILIGHT SAGA: NEW MOON, Bella Swan (Kristen Stewart) is devastated by the abrupt departure of her vampire love, Edward Cullen (Robert Pattinson) but her spirit is rekindled by her growing friendship with the irresistible Jacob Black (Taylor Lautner). Suddenly she finds herself drawn into the world of the werewolves, ancestral enemies of the vampires, and finds her loyalties tested.
Are you looking forward to "New Moon"?