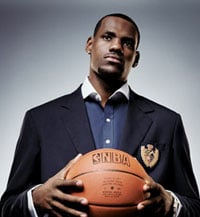 LeBron James, basketball phenomenon…. and a Member of the Tribe? I often tease my people about our collective obsession with the question of whether this celebrity or that is Jewish. But this one is a real mystery, and a big name, to boot. A recent issue of Time magazine asked several celebrities who they would nominate for this year's list of the Time 100, a compilation of the most influential people around. In response, James, an All-Star NBA player and himself a former member of the Time 100 list, named a relatively obscure businessman/philanthropist named Jay Schottenstein, explaining that Schottenstein:
… has supported the translation and elucidation of the Talmud Bavli into English, Hebrew and French. The Schottenstein Edition of the Talmud is now utilized by more than 2 million people worldwide.
If you didn't catch the "Talmud Bavli" reference, you're in good company. Outside of observant Jewish circles (and academia), it's not the most common term, which makes James' choice, and explanation, all the more suprising. The term refers to the Babylonian edition of the Talmud, the central text (after the Torah itself) of Jewish learning, which records the legal discussions of the early rabbis and forms the basis of Jewish law as we know it. (The other edition is the Jerusalem, or Palestinian, Talmud.)

The Talmud is a particularly difficult text for a lot of people, and many publishers have attempted in recent years to produce editions that engage novices and newcomers–with the Schottenstein edition one of the better and more influential. So LeBron knows from what he speaks.
James didn't explain his choice of Schottenstein any further, and there is no obvious connection between the two, aside from the fact that both are Ohio based. (James grew up in Ohio and plays for the Cleveland Cavaliers.)
But this brief quote has not gone unnoticed by the Jewish blogosphere, which is wondering the same thing I am: Is LeBron Jewish? Studying to be a Jew? Or just a Talmud Bavli fan?