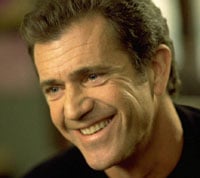 I was discouraged to hear the news of Mr. and Mrs. Mel Gibson's pending divorce. Robyn Gibson signed the paperwork last week, the day before Good Friday. Mel must have had a different kind of passion this Easter.

The Gibsons have been married since 1980, after meeting in Adelaide, Australia in 1977. They have seven kids (can you believe they're that old?!), six of whom are grown. Stories have circled for years that their marriage has been in trouble, especially since his DUI arrest over two years ago. But, of course, Hollywood is filled with gossip stories about just about everyone–for just about everything–and I always hold out hope for marriages.
Why?
Well, there are just too many people in America who are enduring the years left between now and when their kids are grown with plans on divorce. Sure, divorce has been a real thing for a long, long time. But its has become increasingly more common among those who've stayed together for two-plus decades to replace "'Til death do us part" with ""til our kids are grown, or at least until they won't get hurt too bad."
Mel Gibson is known for his religious commitment and conservative political views. They both are known for charitable giving. If they can't make it, who will?

The Gibsons appear to have been somewhat estranged for awhile, hanging in there for appearance purposes. If that's true, there will no doubt be thousands and thousands of fans who'll relate to each of their plights, and also feeling validated in their own. Those of us who're married know that it takes work. It's hard enough even if we're committed to working at it. And once we've abandoned the need to work or the hope it'll get better, than marriage really has no shot.

So I'm always hoping and praying for those who'll stick it out, who'll work it out even through hard times. I pray for John Travolta and Kelly Preston, even though their spiritual beliefs are different than mine. I pray for Tom Hanks and Rita Wilson, who seem to be a Hollywood couple who gets it right. The same for Patrick and Lisa Swayze, Gwyneth Paltrow and Chris Martin, Debbie Dunning and Steve Timmons and several others.
In the meantime, a "Hollywood marriage" continues to mean something more than a marriage between celebrities. It has come to signify
a marriage that won't last very long.
And that's a shame not just for the individuals, but for a nation that is so fascinated with its celebrities. We need to start embracing hope and commitment, not the easier way out.