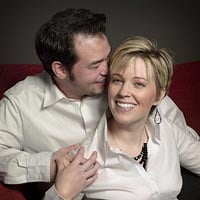 Say it ain't so! Star Magazine is reporting that Jon Gosselin, star of the hit TLC reality show, "Jon & Kate Plus 8" may be cheating on his wife.
According to the Magazine, Jon–who along with Kate and the rest of his brood recently moved into a $1.3 million dollar mansion in Pennsylvania–recently crashed a party at Juniata College in nearby Huntington, PA and played beer pong with members of the women's volleyball team.

The following night he apparently went to a nearby sports bar, again with members of the women's volleyball team and allegedly made out with a number of them.
The Magazine quotes a witness at the bar as saying:
"He was dirty dancing with several of them, making out, kissing them on their necks and mouths. I thought it was rather surprising for a father with his wife and so many kids at home to be acting like this. He was all over one girl, a long-haired blonde who's nearly 6 feet tall. He left with several of the girls, including her."
Jon is also said to be frequenting other bars close to his home, even spending Valentine's Day away from Kate. Supposedly, he's even tried to pick up women while out with his mother.
Star Magazine also features a screenshot of this Live Journal entry and photo of a very
drunk-looking Jon at a bar with two girls.
I must say, this all really breaks my heart. I
recently interviewed Kate Gosselin
and although she may come across as irritable on the show at times–her response to my asking her for a reason for this was, "Walk a day in my shoes and you'd be irritable too" which I completely respect — she was a very kind throughout our phone conversation. I know some will speculate that the stresses of raising such a big family may be causing a strain on Jon and Kate's marriage, but I hope that the couple's strong Christian faith gets them through all of this–whether it's true or all just nasty rumors.
For more on the story, you'll need to pick up Star Magazine–the complete article isn't featured on their website.
New
:
How the Gosselins Can Save Their Marriage