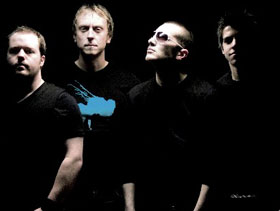 Did you know that the Beatles named themselves after Buddy Holly's band, the Crickets and that several of the early Beatlemania hits are essentially skiffled-up versions of Holly songs? Keep this in mind, anyway, when you encounter "God of This City," by Bluetree, the new evangelical worship band out of Ireland.

The group's name recalls the clipped two syllables of that other, bigger band from Eire, and borrows half of the title of the senior musicians' biggest album, "Joshua Tree." If you missed the U2 references, you won't once Bluetree's ricocheting guitar riffs and longing vocals kick up. (On Amazon, "Joshua Tree" is the other item customers also bought.)
I bring up the Beatles-Crickets connection because I harp on Christian music's slavish mimickry of mainstream styles–from the sound of the band to its hairdos. But it seems we've hit a new phase, wherein the openly spiritual bands make music that honors their idols instead of re-marketing the sound to a new audience.
Certainly there is marketing savvy to Bluetree, but the 12 songs on "God of This City" have their own character, and a theological insight that Bono and his gang still prefer to tip-toe around. Bluetree's opening track, "This Noise" calls out rock's (and religion's) fascination with apocalyptic events–hurricanes and other natural signs–to remind us that when God touches history, He prefers to whisper. The haunting chiming rhythm may owe a lot to U2's, but it puts it to fitting use.