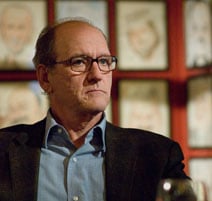 Well, today's Oscar nominations have left a movie buff like me feeling a lot of mixed emotions. There weren't too many surprises–movies that received Golden Globe nods, such as "Frost/Nixon," "Doubt," and "Slumdog Millionaire" received plenty of nominations from Oscar too. But the most heartbreaking category for me on Oscar night will be Best Actor. Richard Jenkins and Frank Langella are both amazing actors who deserve to win for their performances. What's worse is that this is probably the last shot for both of them to win one, too. Add to that the comeback story of the year with Mickey Rourke for "The Wrestler" and I don't know who to cheer for.

I am happiest about the Oscar nominations for Best Screenplay and Best Actress for the movie I continue to say was wrongly overlooked last year by audiences and some critics, "Frozen River." There won't be wins in either category, but maybe a few more people will see the film now when comes out on DVD.
If the Oscar nominations left me with feeling that there is an absolute slam-dunk category, I think it has to be Best Supporting Actor. It's actually a pretty weak category, leaving Heath Ledger to win the much-discussed posthumous Oscar.
Surely that will provide at least one must-see moment on Oscar night.