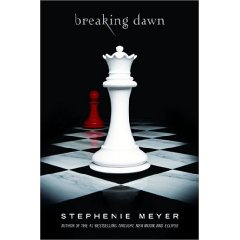 Before I go listing my YA novel picks for 2008, I have one caveat: I am rather tired of the way people slap the word "spiritual" on everything including the kitchen sink, without really telling you what they mean by the usage.
So, in the process of giving you my Top 5 Best Spiritual YA Reads of 2008, I will offer you 5 possible meanings/uses/broad understandings of "spiritual" in light of the stories discussed here. (Note: The novels aren't listed in any particular order.) Here we go:
1- "Breaking Dawn" by Stephenie Meyer – Some of you may be groaning at this pick, saying to yourself: "I am so sick of everything Twilight, blah, blah, blah, and I HATED Breaking Dawn; it was terrible in every way, so why in the world is it on this list, much less being called the #1 Spiritual YA Novel of 2008?" Well, I'll tell you why: It's #1 because of the Zeitgeist factor, zeitgeist meaning "spirit of the age or time." Stephenie Meyer's "Twilight" series is a contemporary, cultural phenom because it's a whisper on everyone's lips–the young, the old, the boy, the girl, the Dad, the Mom, the cranky husband, and the swooning wife–even if the person whispering has no idea what Twilight even is. It's the new Harry Potter, everyone is going crazy for it, and it has taken on a life of its own. Hence, the zeitgeist factor.
2- "Graceling" by Kristin Cashore – Oh! If you have not read this, you must must, must read this. The book is not to be missed. Not only does it have the best romance since Twilight (I kid you not), but it's about an entire society where certain children are born "graced" (now there's a good spiritual term!), i.e., gifted. Called "gracelings," these children are marked by eyes that are each a different color, and their "graces" can be benign like being a fantastic cake-maker or be terrifying like being able to kill a man with the flick of a finger. In this vein, Cashore's protagonist, Lady Katsa, has a "killing grace", and she grows up to be the King's Assassin. Enter Prince Po, who has a "fighting grace," and watch as sparks fly. Wooh!
3- "The Graveyard Book" by Neil Gaiman – This wonderful new children's novel from the myth-remaking master himself takes place in–of all settings–a graveyard. Essentially, this entire story, which tells of the adventures of a young boy named Bod (which is short for Nobody–ha!), takes place in death even though young Bod is still alive. There are lots of ghosts (i.e. "spirits") and this novel embodies an extraordinarily upbeat, quirky look at the afterlife (very spiritual) as something to look forward to as opposed to fear.
4- "The Cabinet of Wonders" by Marie Rutkoski – The wonderful first installment of this new fantasy series is about a girl, Petra, who journeys to Prague to retrieve her father's magical eyes (!!), which have been stolen by the Prince of Bohemia (what a beguiling premise, no?). In addition, Petra's constant companion during her quest is a little creature named Astrophil. Astrophil is a tin spider crafted by Master Kronos, Petra's father, who is alive and filled with opinions and delight for all things literary like the author, a professor literature, herself. Astrophil (and a motley crew of other tin animals, including a dog) lands this book as a Best Spiritual YA novel because Astrophil is an example of animism, the idea that any object or being can be imbued with a soul or spirit and be brought to life (even one made of tin!).
5- "Bliss" by Lauren Myracle – The premise is technically about a "spirit," as in a "ghost." The ghost's name is Liliana. This novel also captures the historical "spirit" (ha!) of the late 1960s since it is peppered with references to Archie Bunker, the TV show"All in the Family," and the Charles Manson trial, the combination of which makes this book eerie in a unique and wonderful way.