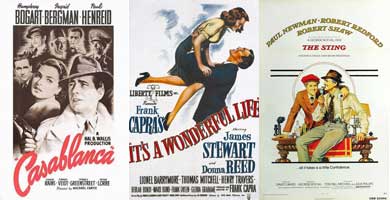 The American Film Institute recently named its Top 100 Most Inspiring Films of All Time. I wish there was an Academy Award for the Most Inspiring Film of each year.
Here are 14 of my favorite inspiring films of all time, in order of release date. (See here also for my list of Top 10 Most Inspiring Films of 2008.)
1. Casablanca (1942) – The best kind of inspiring film: it didn't seem like it was trying to be one. That is, until the tragic hero becomes the pathetic anti-hero and then becomes the redemptive hero!
2. It's a Wonderful Life (1946) – Hard to top this classic. I'm glad it only plays around Christmastime–I can't help but get misty at every viewing.
3. The Sting (1973) – Okay, to some it's a gentle comedy about con men in a prior time, but to me it was a buddy flick that showed the power of being buddies, loyalty, doing what you're good at, and the stakes of getting caught. It kept me out of a lot of trouble, too!
4. Day of the Dolphin (1973) – Overlooked by many "Best Of…" lists, this movie about conviction and love–even at a cost–should be must-see for animal lovers and people lovers everywhere.
5. Chariots of Fire (1981) – Some consider it one of the weakest Best Picture winners ever, but it was inspiring to me because it portrayed men of different faiths who experienced varying levels of conviction and triumph. Plus, it was one of the most intelligent and respectful presentations of faith ever showbn on the silver screen.
6. The Right Stuff (1983) – Didn't you ever wanna grow up to be an astronaut? These guys did, and they made it, and there was a whole lot more to the story than most of us ever knew.
7. Hoosiers (1986) – Reconciliation is inspiring and redemption even more so. This was more than a feel-good flick: it had both.
8. Working Girl (1988) – Harrison Ford and Sigourney Weaver were stars at the top of their game, but it was Melanie Griffith's character (Tess) who stole the film and showed a generation of young women they could believe.
9. Field of Dreams (1989) – The fantasy of a baseball field–and the even greater fantasy of marital partners free to pursue their dreams–never gets old! I still want to travel to Iowa to see the field.
10. Dead Poet's Society (1989) – Okay, not really. But Robin Williams's introduction to his class (the Feeding Daffodils scene) is among the finest I've ever seen.
11. Schindler's List (1993) – Oh, if we could all live with that precious commitment to life. "If I could just save one more…" was a line more powerful than most sermons I've heard, or given.
12. The Shawshank Redemption (1994) – While an older generation was still quoting "Caddyshack" and "Stripes," along came a non-comedic, non-gratuitous film that is still quoted today. This was about everything, including hope–the most dangerous thing!
13. Shakespeare in Love (1998) – Just a wonderful epic; it's beautifully crafted and musically captivating. Ms. Paltrow played four parts and we rooted for a historical figure we never knew. I walked out believing the sappiest of messages: that true love can triumph over anything.
14. Gladiator (2000) – A man was honorable and loyal. He turned blind with vengeance and then turned savior and sacrificer for the good of a country, a boy, and a mother. The film's consideration of the afterlife–while not consistent with my personal view–was as inspiring as it was beautiful.
Which movies of all time inspire you? Share below.