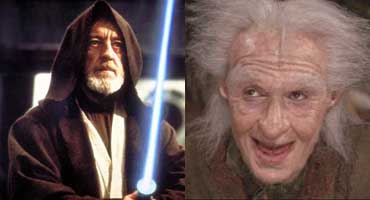 When I decided to do a list of top 10 Jewish movie characters, I got to #4 and then stopped. Jews and pop culture are my thing…why could I only come up with four, with one of them being Yentl?? You could also award a slot to Sir Ben Kingsley, your go-to for Jews. His portrayals of Jewish characters make a lasting impact onscreen, from "Schindler's List" to "Lucky Number Slevin." Still, 10 memorable characters?
I turned to my Facebook friends for help in jogging my memory. They recommended many characters I hadn't thought of in movies I haven't seen: Masha in "Enemies: A Love Story," Harry Lime in "The Third Man," Arnold Friedman in "Capturing the Friedmans," and Vin Diesel's character in "Knockaround Guys."
Then came the cult faves: Eric Shoenstein in "Animal House," Baby Houseman in "Dirty Dancing," Feivel Mousekewitz in "American Tail," Virgil Starkwell in "Take the Money and Run" (but oddly, no votes for Alvy Singer from "Annie Hall"), and Tevye from "Fiddler on the Roof." Ben Stiller's character in "Keeping the Faith" gets a nod from one friend who says, "I would have loved to have a rabbi like him!"
"Does Dr. Zoidberg from 'Futurama' count?" one fanboy asks, while another inquires about Magneto and Kitty Pryde from the "X-Men" series. If we include television, then "Dr. Joel Fleischman of 'Northern Exposure,'" says one person. "Jesus, from the 'Last Temptation of Christ,'" says notherafriend who always tries to select the most controversial choice.
After much consideration, here's the final list. Feel free to disagree vociferously and say who you would have picked instead.
1. Mordechai Jefferson Hammer from "The Hebrew Hammer" (Adam Goldberg) – He gets the #1 position for being the most frequently referenced character in the myriad answers provided by mi amigos de Facebook. Also, it's funny that the actor's name is almost as Jewish as the character he plays, even though Goldberg is not Jewish.
2. Walter Sobchak from "The Big Lebowski" (John Goodman) – "Obviously," a friend says.
3. Avram from "The Frisco Kid" (Gene Wilder) – Some mentions of this film, which featured Wilder as a rabbi dispatched to the Wild West of San Francisco, was reassuring since it's not being forgotten. (Plus, it's a special treat to see a young, pre-Indy Harrison Ford play a cowboy with his special smirk and observe Shabbat with the rabbi. As we know, from Adam Sandler's Hanukkah song, HF is "a quarter Jewish; not too shabby.")
4. Julius Levinson, as Jeff Goldblum's father, from "Independence Day" (Judd Hirsch) – Judd Hirsch from "Taxi" that is, not Judd Nelson from "The Breakfast Club," in case you're one of those people who always gets them confused.
5. Obi-Wan Kenobi from "Star Wars" (Sir Alec Guinness) – His name seems more Japanese than anything else, but "don't tell me he's not Jewish," a friend says confidently. Sir Alec Guinness's rabbi-like Jedi talk of a Force that runs through us, penetrates us, and binds the galaxy together is proof.
6. Emily Eden from "A Stranger Among Us" (Melanie Griffith) – Those of us who lived in the Orthodox community watched this movie with a schmear of skepticism at the prospect of Griffith passing for a religious Jew. Yet one of my Facebook friends is in awe of her Hasidic love interest (Eric Thal): "A Chussid [Hasidic Jew] who can quote Kabbalah, fire a gun, and make out with Mel has GOT to be cool.
7. Governor William J. Lepetomane from "Blazing Saddles" and Rabbi Tuckman from "Robin Hood: Men in Tights." (Mel Brooks) – Brooks was a Yiddish-speaking Indian in the former and a Jewish version of Friar Tuck in the latter.
8. Bubbie Cantor, the grandmother, and Sam Posner, the pickle guy, from "Crossing Delancey" (Reizl Bozyk, Peter Riegert) – This movie taught that sometimes, when you meet your true love, he could smell like pickles–a valuable lesson for all the singles out there.
9. Avner from "Munich" (Eric Bana) and Ari Ben Canaan from "Exodus" (Paul Newman) – I'm giving these guys co-billing because they serve, in different generations, as touchstones for Jewish strength. Both characters challenged the traditional stereotype of Jews as weak and non-assertive. I mean, even Judd Apatow gave Eric Bana's character a shout out in "Knocked Up"….
10. Miracle Max and Valerie, the old married witch couple, from "The Princess Bride" (Billy Crystal, Carol Kane) – Just like Obi-Wan (even though they're really nothing like Obi-Wan), the couple was a delight to those of us who have watched older, married Jewish couples banter roughly over topics such as true love and whether we'll make it to the castle we're about to storm. ("It would take a miracle.")
Who are your favorite Jewish movie characters? Share below.