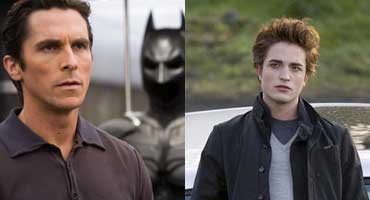 Okay, I promise (maybe) that this is my last post (or, one of my last posts) about "Twilight" for 2008. (Of course, as you know, 2008 ends Wednesday night, bringing a whole near year of possibilities…)
I couldn't resist mentioning this little factoid that I saw in the article, "Twilight Was Bigger than Dark Knight?!" on E! Online, which states the following:
With a $167.3 million overall domestic take as of Sunday, per Box Office Mojo, "Twilight" made more than four times its reported $37 million production budget–the best rate of return on any film in the 2008 Top 10, including "The Dark Knight."
"The Dark Night" technically made more money ($185 million budget with a $530.8 million domestic take), but "Twilight" did better in terms of investment for profit. "Twilight" was even #8 on the list of Top 10 Grossing Films of 2008.
Hurray for vampires, Edward, and Bella!