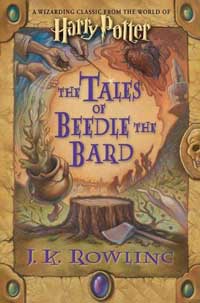 Arriving with surprisingly low-key Muggle murmurs, "The Tales of Beedle the Bard" is the newest book written by J.K. Rowling after the final Harry Potter book came out last year.
For those who read Deathly Hallows, you'll remember a book of wizard fairy tales (the wacky equivalent of the Muggle world's Grimm's Fairy Tales) play an important part in Harry's horcrux search. J.K. Rowling compiled seven hand-written and hand-drawn versions of the tales, bound in dark brown leather and embossed with silver filigree. Six copies were given to close friends involved in the Harry Potter success while the last was auctioned off for charity and acquired by Amazon.com.
Luckily for Rowling's readers, "The Tales of Beedle the Bard" has been mass produced so that everyone can add it to their Harry Potter collection. There are two versions: 1- The Collector's Edition which costs $100 and looks like a miniature version of the original book. 2- The Standard Editon which costs (a more wallet-friendly) $12.99 and looks more like the Harry Potter schoolbooks, with Mary Grandpre-illustrated covers.
I can't wait to purchase a copy and pore over the pages with a bag of Bertie's Botts Every Flavor Beans by my side. You can also read more about the five fairy tales on Amazon.com.
Are you excited about the latest Harry Potter-themed book? Do you think J.K. Rowling should continue books from/about the wizarding world…or should she move on to something different from Harry Potter?