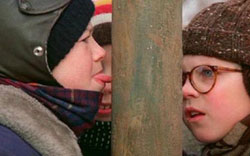 It only takes one line, one look, or one moment to make an ordinary holiday movie an instant classic (think Chevy Chase trying to light up the house in "National Lampoon's Christmas Vacation"). On the other hand, some Christmas movies have opened to less than stellar reviews and box office numbers, despite great scripts and a great cast–It's A Wonderful Life" for example–only to become hits years later. When looking back over my favorite holiday movies, I realized some of my favorite holiday moments are actually in movies that were not so great, while some films I love, like "Miracle on 34th Street" didn't have one moment that really stood out enough to make a top ten list.

So after much deliberating, here are my favorite moments from my favorite holiday movies. As always, leave your suggestions and comments below on what holiday scenes are your own favorites!
"Holiday":
The Tumble
This little known romantic gem about a holiday party to announce a young man's engagement to a millionaire's daughter, is the first pairing of Cary Grant and Katharine Hepburn together. The scene where Grant literally takes a tumble for Hepburn is a personal favorite.
"White Christmas":
Piano Man
Bing Crosby crooning at the piano made for one of the best vintage Christmas movie scenes of all time, even if the movie is a little less than stellar in my opinion.
"Sleepless in Seattle":
Dr. Marsha
We all loved Tom and Meg as Sam Baldwin and Annie Reed in this movie, but the real scene stealer was always Dr . Marsha, the on-air psychologist who helped Sam's son bring the pair together. Watching Annie's reaction to Dr. Marsha while she is driving in a car by herself tells us so much about the couple long before they meet.

"While You Were Sleeping": Mashed Potatoes
Even if you are not a big fan of this romantic comedy , the dinner scene when Sandra Bullock sits down with her pretend in-laws-to-be has a great modern version of a "Who's on first?" bit that includes beef, Nazis, Argentina, and Caesar Romero. Everyone should see it at least once. I can also never look at mashed potatoes at a festive gathering the same way ever again.
"Elf": Santa's Coming!
Will Ferrell's childish exuberance makes this movie work, and how many of us, when we hear of Santa's arrival, wish we too could say "I know him!"?
"A Christmas Story": The Triple Dog Dare
There are many great moments to choose from in this movie that wasn't originally a Christmas classic, but became one, but I still have to go with the tongues frozen to the flagpole as my favorite.
"The Ref": The Tie Up
It's one of the snarkiest Christmas movies ever made, but I still think one of the best scenes is where Denis Leary, who plays a robber, ties up Judy Davis and Kevin Spacey, who are a bickering, annoying egocentric married couple.

"Home Alone":
Breaking and Entering
One of the great physical comedy scenes of all time has to be the sequence of events in which adorable Macaulay Culkin nabs the inept robbers in his house.
"A Christmas Carol":
God Bless Us Everyone
Maybe the most famous line uttered in a Christmas movie ever, Scrooge's cold heart melting by the likes of Tiny Tim in this scene will never grow old.
"It's A Wonderful Life":
Zuzu's Petals
Yes, I had to go with the obvious for my number one choice, but I can't deny the way my heart glows when Jimmy Stewart utters those famous words, "My mouth's bleeding, Burt," and then he discovers the flower petals his daughter gave him.