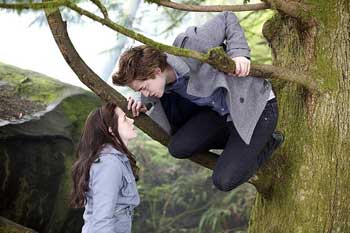 We arrived more than an hour early to the midnight kickoff showing of "Twilight" and the theater was already packed. Not with just 12-year-old girls and emo guys, but with Gucci-toting fashionistas and frat boys, two segments of the population I didn't expect to see.
The excitement was palpable and a small frenzy of camera flashes ensued when a member of my group whipped out a six-foot tall, cardboard cutout of Robert Pattinson as dreamy vampire Edward Cullen. Obviously, every single member of this crowd was primed by obsessive reading and rereading of the books, ready to fall in love with whatever was presented on the screen–and fall in love they did.
Directed by Catherine Hardwicke ("Thirteen," "Lords of Dogtown," and "The Nativity Story"), and based on the first book in Stephanie Meyer's four-book series, "Twilight " is the first installment of the love story between human Bella and vampire Edward. This movie will definitely satisfy the fans and will probably enthrall some who haven't yet experienced the books. In the simplest terms, it's hard to ignore when two very pretty people, Robert Pattinson and Kristen Stewart, have great chemistry on screen.
Hardwicke's direction is grittier than one expects to find in, what is essentially, a teen romance movie, but she deftly captures the essence of being a teen girl as she did in her previous films. While I found Bella to be a fairly weak character in the books, Stewart plays her to perfection with enough gumption and self-doubt to be believable yet strong. (Warning: spoiler alert) In fact, I was elated that she took a more active role in physically defending herself, unlike in the book, especially during the denouement with James.
Similar to the book, Bella's relationship with her father Charlie, the town's sheriff, is a beautiful piece of work, keeping the otherworldly love story grounded in the real world and in real relationships.
As for Rob Pattinson's Edward Cullen, well, he's very pretty to look at. Very pretty, indeed. That's not to say his performance is terrible as many reviews have suggested, but rather that the abridgement of the book doesn't allow for languid character development and doesn't offer much meat for him to chew on. In order to create a contained, two-hour drama, there was so much back story cut and so many storylines added that casual viewers may think some of Edward's actions and reactions to be random and odd. Plus, the gold contacts Pattinson wears are deadening in a film where so much time is spent zooming in on longing gazes.
My biggest complaint about the film is that it didn't spend enough time building the romance. This is ironic because one of my problems with the first book is that it spent too much time on the romance and not enough on action. Yes, the four books are a love story told from (mostly) Bella's perspective so there is much more interior dialogue than a movie can capture. But in the movie, we go from Edward's hostile reaction to Bella to him saving her in the school parking lot to him revealing his secret–in all of twenty minutes. Sure, vampires have super-human speed, but that's ridiculous.
Oh yeah, I've also seen better special effects on "Buffy," but "Twilight" is a teen love story so it's not meant to be a "Dark Knight" or "Transformers." The film almost has a docudrama feel with its hand-held camera work.
Do I think this film will win over legions of the uninitiated? Probably not. The rushed story might confuse casual viewers, and a tremendous degree of suspended disbelief is required. Still, there is no denying that it is one heck of a romance and it's gonna take a big bite out of the box office–and the wallets of all fans.
More 'Twilight' Features: