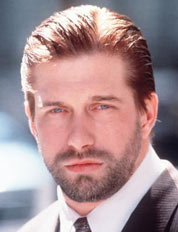 Whew! I think I might be able to sleep tonight. I just read that Stephen Baldwin will not be leaving the country after all, now that Barack Obama has become president, something my fellow Idol Chatter blogger Esther Kustanowitz has been wondering about too.

According to Page Six of the New York Post
the born-again Christian and star of Bio-Dome was just kidding when he told Fox News that he wouldn't be cool with an Obama presidency.
"The liberal Democrats who didn't get that I was joking need to lighten up. Obama is obviously talented and intelligent, and I have great respect for the man. He's got my full support, and I'm gonna be praying for him and his administration," said Baldwin. Though the conservative star added, "If they legalize gay marriage in all 50 states in my lifetime, I'll get a
Billy Ray Cyrus tattoo on my butt to go with the Hannah Montana
one."