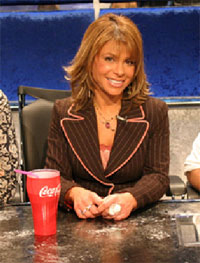 When celebrities become the object of affection for millions of fans there are often a few fanatics who take the adoration too far. Such was the case of former American Idol contestant Paula Goodspeed who committed suicide several days ago in front of Paula Abdul's house after obsessing over and stalking the Idol judge for years. This is not an isolated incident; many celebrities are the victims of the DSM IV-designation known as "erotomania."
Just this Wednesday, Jennifer Garner obtained a court order against Steven Burky, a self-described "crazed 'Alias' fan," who has been harassing the actress since 2002. With that in mind, Beliefnet takes a look at eight celebrities who have experienced the dark side of fame when fans have trouble separating fact from fiction.
John Lennon
On December 8, 1980, Mark David Chapman shot John Lennon outside The Dakota and introduced many Americans to the dangers of adoration.
Jodi Foster
Perhaps the most dramatic of all displays of "erotomania" was from John Hinckley, Jr.'s attempt to assassinate President Reagan in 1981 in order to impress Jodie Foster. Obsessed with the movie "Taxi Driver," Hinckley formed a strong attachment to Foster's character Iris and Travis Bickell's gun collection. After a phone conversation in which Foster told Hinckley that she could not have conversations with strangers since it was "dangerous," Hinckley decided the perfect way to win her heart was to kill a U.S. President.
Theresa Saldana
Best known for her roles in "Raging Bull" and the TV show "The Commish," Saldana was attacked near her home, in broad daylight, by Arthur Richard Jackson. Jackson stabbed Saldana ten times. He may have done more damage if a nearby water delivery man hadn't intervened and subdued him. Some good has come out of the horrific experience: Saldana not only established the Victims for Victims organization, but the attack also played a role in establishing anti-stalking laws.
Rebecca Shaeffer
A young up-and-coming actress, Shaeffer was well-known for her work on the late 80s Pam Dawber sitcom, "My Sister Sam." She is better known as the 21-year-old starlet whose murder prompted the passage of California's anti-stalking laws. When her apartment's intercom was broken, Schaeffer answered her door to be greeted by obsessed fan Robert John Barker, who had obtained her home address by hiring a private detective to search DMV records. Reportedly, she politely but firmly turned Barker away and asked that he never return. He returned a second time, producing a handgun and shooting her point blank. The California Drivers Privacy Protection Act was also partially enacted with this murder in mind.
Madonna
In 1995, Robert D. Hoskins tried to scale the walls of Madonna's Los Angeles estate and was shot by one of her bodyguards.
Steven Spielberg
Actors and actresses aren't the only ones who experience invasions of their privacy–writers, models, and even directors experience problems also. In 1997, Jonathan Norman was arrested outside of Steven Spielberg's Pacific Palisades home with a "rape kit"–duct tape, handcuffs, and a utility knife–and photos of the director.
David Letterman
Margaret Mary Ray was the butt of many late night jokes, but it was no laughing matter to talk show host David Letterman, who was the object of her warped desires. Best known for breaking into Letterman's New Canaan, CT, house many times and stealing his Porsche, she ended her own life in 1998 after years of delusions about having a romantic relationship with the comedian.
Meg Ryan
Stalkers are typically mentally unbalanced to begin with, but Meg Ryan's harasser took being crazy one step further by trying to sue the E! Entertainment Television network for libel after the show called him a stalker. According to reports, John Hughes (not the director) claimed that he had only been convicted of a misdemeanor charge for trespassing so the label of "stalker" was libel. Perhaps Hughes was ignoring the fact that he broke into a Malibu home after assuming it was Ryan's, that he had several restraining orders placed against him already, and that, oh yeah, he wasn't Ryan's husband as he claimed to be.