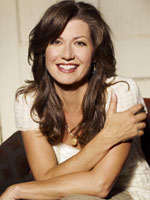 Sure, it's a little ridiculous that Christmas decorations are up at K-Mart already, but they aren't the only ones jumping the gun on the Christmas season. The last two weeks have seen more than one popular Christian music group release a Christmas CD. And, I just can't help myself, I have been listening to all of them this week. But at least iI have good news to report because Christian music fans are in for a real treat.
If a classic Christmas sound is what you are looking for, you might want to check out Amy Grant's "Christmas Collection." It is a compilation of some of the more popular songs off of her other Christmas recordings, but it also has some new tunes, including one I really like "I Need a Silent Night."

If you want something a little more modern, you might want to listen to Barlow Girl's "Home for Christmas." The ladies do a spectacular job of breathing new life into classis like "Carol of the Bells" and they also have some new original Christmas songs on the album.
If you like your Christmas cheer with just a little bit of edge to it, you'll have to wait until next week for SIxpence None The Richer's Christmas release, "The Dawn of Grace." They are playing a couple of the songs on it on their Myspace page and it sounds like vintage Sixpence, with Leigh Nash's angelic vocals and some slightly quirky but thoughtful lyrics
Sara Groves also has a Christmas CD, "O Holy Night" releasing next week and she has a funny song on there just for parents called "Toy Packaging."
But my favorite new Christmas release has to be Casting Crowns' "Peace on the Earth" which dropped in stores this week. There are plenty of new songs on this one to enjoy as well as some great arrangements of traditional Christmas songs. This one is destined to become one of the top Christian Christmas albums, period.
So even if you don't want to rush the season by listening to Christmas tunes just yet, just know there are several enjoyable options to choose from if you want to get your Christmas shopping for someone else started early this year!