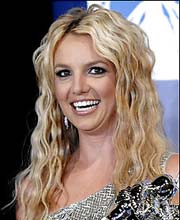 October has been a banner month for Britney Spears fans. Her new single, "Womanizer," set an arcane record of the kind that baseball stat geeks love to cite–the song was the first to go from no. 96 to no. 1 on the Billboard chart in one week. Ten days ago the tune's video debuted, and the girl looks great, writhing nude in a sauna as she kicks out the song's syncopated refrain. We also got a peek of an MTV documentary about the singer, in which she talks about her struggles with celebrity. And though MTV's cameras catch in her eyes a glimpse of the dark places she's been, she's in comeback mode, without apology. At one point Brit lays a hand aside her face and says, "What the hell was I thinking?"

All this activity comes as Britney Spears, the cultural phenomenon, turns ten: her first single, "Baby, One More Time," was released back in October of 1998. In a decade, nearly nothing has changed. Except for the costume changes, the new "Womanizer" video and "One More Time" are barely distinguishable: Britney today is no less beautiful or athletic, the choreography, performed with Britney heading a phalanx of twitching assistants, has advanced little. Most of all, the head-spinning contradictions are still in place: the schoolgirl is a slut is a standup feminist is a latter-day fan dancer. Britney's life itself reads at this remove as a series of quick edits, flashing the plot points but always returning to the real-life star, baring herself for your inspection.
But the fans get it. Despite her barely-safe-for-work nudity and the scene where Britney xeroxes her hindquarters, "Womanizer" is intended as a feminist, or at least a woman-empowering rant, As one post on Britney's official site shouts, "Stop fooling around with so many girls cuz Britney Spears hates a womanizer!" They get it because they need Britney to be a good girl, "It's better than nothing!!" the same post concludes.